According to the American Dental Association, approximately 2 million teeth are lost during sports activities per year, making mouthguards necessary for all contact sports. Our dentist and team are dedicated to keeping your smile healthy and free from discomfort. To help us do this, we provide several types of mouth guards at our office.
Types of Sports Mouth Guards
For our athletic patients, we often recommend a type of mouth guard called an athletic mouth guard or sports guard. Sports guards fit over your teeth while you play sports and participate in other athletic activities to protect your smile from injury. Sports guards are especially important for our patients who play high-contact sports such as wrestling, football, hockey and rugby; however, all types of athletes can benefit from an athletic mouth guard. Whether you play soccer, basketball or baseball, a sports guard can be a great way to protect your smile and keep it safe.
While a number of types of athletic mouth guards are available, a custom-made mouth guard is the most effective in protecting your smile. This type of mouth guard is designed to comfortably fit your smile and prevent dental injury, such as knocked out and chipped teeth. A sports guard can also help to prevent injury to the soft tissues of the mouth, including the tongue, lips, cheeks and gums.
Benefits of Sports Mouth Guards
There are several benefits for using sports-related mouth guards.
Reduces the risk of concussion during sports from lower jaw impact
Protects teeth from being knocked out or fractured
Provides a comfortable fit allowing for natural breathing and speaking
Acts as a cushion to prevent jaw fractures
Meets all High School and Collegiate sports regulations
When sports guards are custom made they provide the best possible form of safety and comfort as opposed to the bulkier "boil and bite" guards. The level of protection custom sports mouth guards provide is of the highest quality. They are durable with a shape that hugs the teeth precisely. This keeps teeth close, eliminating unwanted movement and any need for adjustment.
How are Sports Mouth Guards Made?
Custom-fit mouth guards that are prescribed by a dental professional are created from thermoplastic material. The guards are made from a mold taken from the patient's teeth making each sports guard personalized with a true-to-form fit.
After the dentist takes an impression of the patient's teeth, they can adjust the thickness of the sports guard so they fit perfectly with no adjustments needed. The molds are made by placing dental putty into all the tooth crevices to create an exact replica of the mouth.
Once the mold is formed it's sent to a lab where the actual sports mouth guard is finalized. This is done through layering superheated plastic to exact specifications then cooling it to complete the durable piece of dental wear.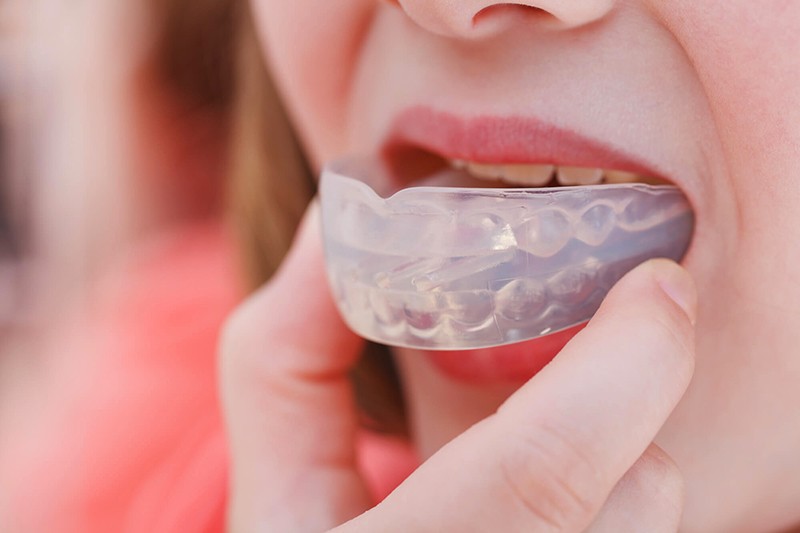 Sports Mouth Guards in Auburn, WA
If you participate in any kind of athletic activity, especially a high-contact sport, our dentist at Nuttall Smiles recommends that you wear a sports mouth guard. Sport mouth guards protect your teeth and soft tissues and can also help reduce the chances of a neck injury! We invite you to contact our office today to learn more about mouth guards and their benefits. Call (253) 544-5501 to make your appointment with Dr. Nuttall, and to learn more about sports mouth guards in Auburn, Washington. We look forward to caring for your smile!
Frequently Asked Questions